Mobile technology has put a lot of power (and responsibility) into the hands of today's consumers. In the heating and combustion industry in particular, customers can be more connected to both their fuel providers and their storage tanks than ever thanks to mobile apps and other innovative resources. That's why one of the main components of the BeckettLink® Connected Tank Gauge (CTG) system is the myTechnician™ customer app, which comes with a variety of features that put the customer in control of their own tank levels, alerts, and more. Through this app, the monitoring of fuel levels becomes a joint venture of the dealer and the customer together. In this post, we'll give you an introduction to the myTechnician™ app and it's most important features, as well as explain how the app helps improve customer safety and satisfaction.
Features of the myTechnician™ App
The myTechnician™ app was designed with the fuel customer and all of their heating needs in mind. We designed our app in order to provide a convenient, customizable customer experience to go along with the connected tank gauge system. Here are some of the main features of the myTechnician™ app that you should be aware of:
Using the app, customers can check their fuel tank level at any time. On the display, customers can see the fill percentage of their tank on an easy-to-read tank graphic.
Customers can get notifications to their phone or mobile device when the tank level is getting low and it's time to fill up.
Using the myTechnician™ app, customers can set up and register their own CTG tank gauges and hub, meaning that there is no need to give the installer their WiFi password or other potentially sensitive information.
Customers can use the app to set custom system alerts for a variety of tank activities and situations, including low fuel level, hub connection lost or restored, low battery level, and lost signal from gauge. Additionally, a freeze alert can be set for a specific interior temperature.
Customers can also monitor their fuel usage habits and history in order to identify patterns and potentially predict fuel needs and costs.
Important device information including installation notes, serial numbers, and warranty dates can be accessed through the app at any time to assist with service.
The myTechnician™ app is available for both iOS and Android operating systems.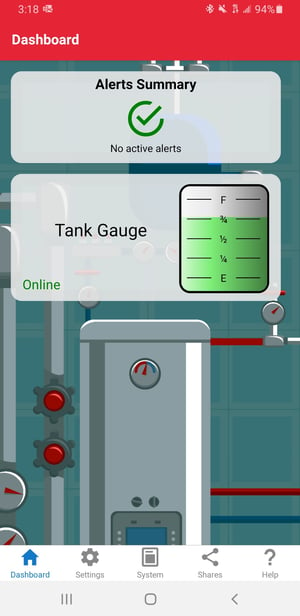 Staying Safe and Connected with myTechnician™
The customer app component of the BeckettLink® Connected Tank Gauge system was designed to get customers more involved than ever with the fuel delivery and monitoring process. When customers have the ability to check their own tank levels, they can begin to understand their own fuel needs and usage. This kind of understanding can lead to both better fuel usage habits and potentially help customers cut their fuel budget if they see they're using more fuel than necessary. In this sense, the customer is more in control than ever of their fuel levels.
However, the app also facilitates a deeper connection and partnership between the customer and the fuel dealer by allowing each to share the responsibility for keeping the tank full and avoiding costly fuel run-outs. While the dealer can manage fuel delivery schedules and tank levels on their end through the Dealer Dashboard, the customer can access some of the same tank information through the app and can take initiative to schedule fuel deliveries when necessary. Additionally, customers can be more in control of their own safety than ever by helping to avoid fuel run outs that can lead to dangerously low interior temperatures. By working together using the Connected Tank Gauge system, both the dealer and the customer can create a much more efficient fuel monitoring process than ever before.