To make the most of a digital tank gauge device, you need to be sure that the entire connected tank gauge system is designed for convenience and efficiency. While the tank gauge itself may be the star of the BeckettLink® system in the eyes of some, it couldn't fulfill its purpose without the support of the WiFi/Bluetooth® Hub component. The hub, as its name suggests, provides the central connection that allows the rest of the system components to communicate and interact with each other. In this post, we'll give an introduction to the BeckettLink® WiFi/Bluetooth® Hub, the role it plays in the connected tank gauge system, and the significance of its Bluetooth® capabilities.
BeckettLink® Hub Purpose and Functions
The BeckettLink® hub's main purpose is to serve as the "hub" of central communication within the connected tank gauge system. In practice, the hub transfers information and tank data from the tank gauge to the digital cloud in a format that can be accessed by the digital interfaces of the system: the Dealer Dashboard and the BeckettLink® app. Once the hub is set up and connected to the devices in the tank gauge system, it will begin both sending and receiving WiFi signals and data.
As far as the hub's functions go, it is the component that facilitates all communication within the system. First, the hub connects to existing WiFi networks that exist in the home or facility in order to send and receive data. On the top of the hub gateway component, four LED lights have been installed in order to assist with hub setup as well as troubleshooting. A single hub can be linked to multiple BeckettLink® gauges and devices and can be placed in an area up to 150 feet away from the connected devices in the system. Finally, the hub gateway includes a temperature sensor that can issue a warning alert if the room temperature falls below a preset value.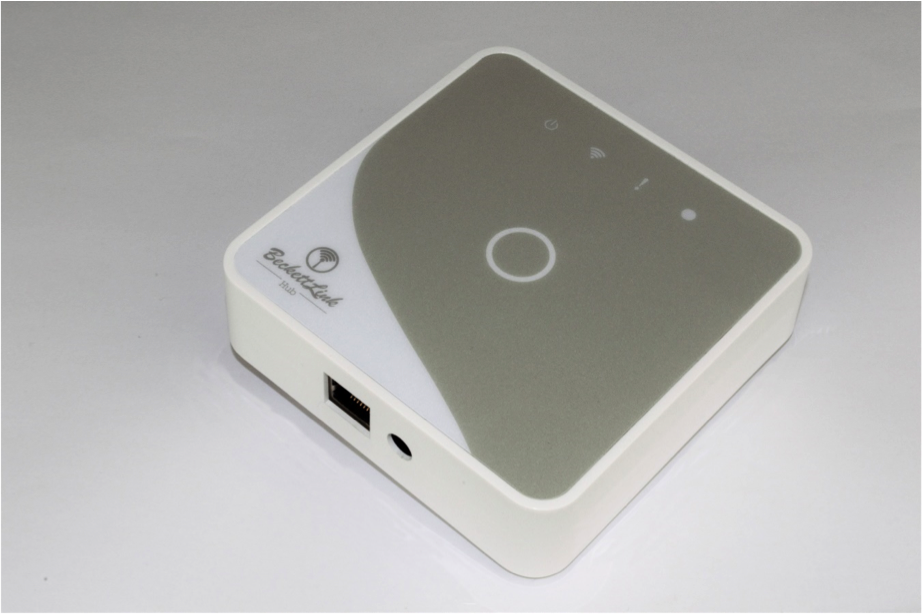 Why Bluetooth®?
The choice to install the BeckettLink® hub with Bluetooth® technology was based on several advantages this type of connection offers. The hub was designed to use Bluetooth®-based communication with the tank gauge but includes security measures that prevent unwanted connections with unauthorized phones or other devices. The communication used is much higher-powered than traditional Bluetooth® devices, therefore far surpassing the usual 30-foot connection range. This allows for placement of the hub in any convenient space within 150 feet of the linked devices, removing strict placement restrictions based on distance.
Bluetooth® also provides better range and penetration than traditional WiFi in general. Finally, a Bluetooth®-powered hub has lower power requirements compared to a device based on WiFi, leading to a longer battery life of up to ten years.